Thank you for checking out this page.  If you got this far, then maybe you would like to know more…..
Being a Stampin' Up demonstrator means so many different things to different people;
Holding workshops
Getting like minded people together to craft together
Buying just for yourself
Building a business
Sharing creativity
Seeing new products as soon as they are available
Making a one off purchase and doing nothing more
I have been a Stampin' Up! demonstrator since 2017, and joined with the sole intention of making this one time purchase and nothing more.  But with encouragement from my team leader, I started to demonstrate to friends, who then brought friends, and now I have a lot of new friends and we all enjoy crafting together!
So, What are the benefits of joining my Team?
Choose any current products up to the value of £130 and pay just £99 (includes all stationary  needed to set up our own business and free shipping on this order). Plus, until the 31st May, you get an extra £62.50 of the latest In Color products FREE
Get a discount on everything you buy – a minimum of 20% discount (excluding consumables ie order sheets, catalogues etc)
Earn commission on all customer orders you take
Early access and pre-order for new products
Weekly information from Stampin' Up! keeping you informed on all aspects of the business, with inspiration to encourage new stampers and build your own team to project ideas and so much more
Access to more including 'Stampin University', a demonstrator website just for you (subscription required)
Access to groups just for Stampin' Up! demonstrators
Rewards on yours and your customers orders including 50% off items, free products in Sale-a-bration and other incentives (including working towards an all expenses paid holiday!).
3 months trial period with no strings attached!
Put in as much effort as you want (providing you meet the quarterly targets).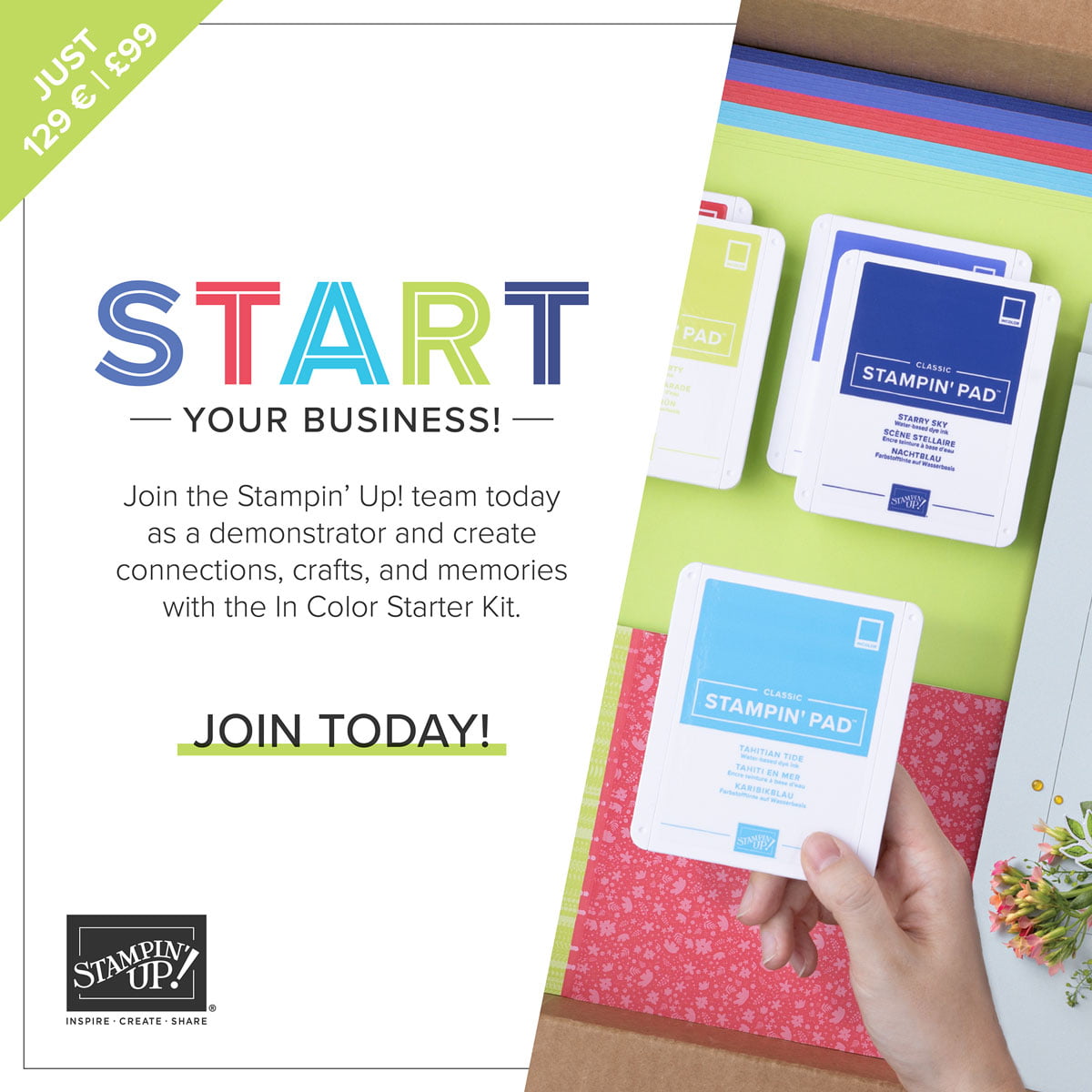 How do I join?
So, if you would like to join my team, then click on the button below, read and agree to the terms and conditions, and then start to build your shopping list!  Don't forget its £130 of product for just £99 (not a penny more than £130 tho!).  If your shopping list is longer than the £130, then place your first sign up order, wait 7 days and then place another order for the rest of your wish list and get your first 20% discount on that order!
Why should I sign up through you?
You don't have to!!  But, if you like my style of crafting and feel comfortable with me, then why not?  We can learn from each other!  You can sign up with any demonstrator or direct to Stampin' Up!, but its nice to be part of a team.
Do I need to go out and hold parties/demonstrate to other people?
No, you don't.  You can purchase just for your own use…there is no commitment to do anything other than meet the quarterly minimums to maintain your status.
How much would I need to spend?
Quarterly minimums are £225.  So you either purchase or sell to others to this value or above to stay as a demonstrator and keep your discounts.  This figure is after discount, so retail sales of £270.  This does not include the quarter that you join, so giving you a bit of breathing space to establish yourself, if thats what you want to do.
Is there more to this than meets the eye?
In a word…no! It is what it says.  As long as you hit the quarterly minimum spend, you can stay a demonstrator as long as you wish.  You can make your initial purchase and then nothing more,  your time as a demonstrator will lapse and thats that.  You can even sign up again at a later time.  You can just fund your own hobby, or, you can start to build a business, work towards incentive trips, take part in team building events, recruit members to your own team….the sky is the limit!